A Magnificent 18 Holes of Spectacular Golf
Long Prairie Country Club, built in 1927, is proud to be one of Minnesota's oldest operating golf courses.
Nestled amongst tumbling hills and ancient oak trees, Long Prairie Country Club boasts challenging fairways, exceptionally manicured greens, gorgeous plants and flowers at every hole, and a course with some of the greenest grass around. All-in-all our course is 18 holes of spectacular golf.
Several of our original 9 holes now feature towering old oaks lining their fairways. Our "new 9," which opened about 30 years ago, perfectly blends into our original layout, bringing links-style golf to our unique course. We know you will be impressed with the courses natural characteristics.
Our course measures a manageable, yet challenging, 6,024 yards from the middle tees. While this may seem short, the landing areas are mainly uphill, leaving you no roll off your tee shot.
A Few of Our More Notable Holes
The 8th
You'll quickly forget the shorter distance when you step up to play the most difficult par 3 without a hazard in all of Minnesota. With a 205-yard carry to a narrow, undulating green, bring your accuracy and best long iron or short wood.
The 13th
Bring your 'A' game. First, your tee shot needs to clear a retired gravel mine (an approximately 175-yard carry from the middle tees); then stay out of the water on the left and steer clear of the out-of-bounds on the right. It's a truly tight fit. Anyone who's played Long Prairie Country Club will remind you this hole is not an easy feat.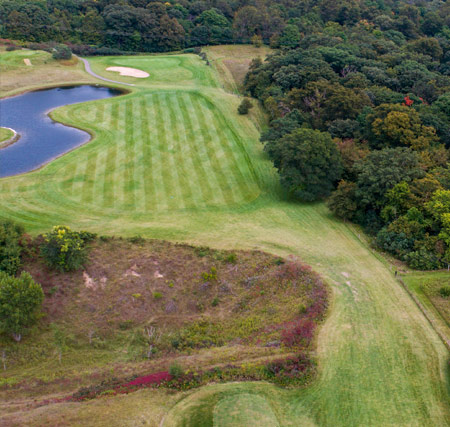 The 14th
(LPCC's Signature Hole)
Our signature hole is a short, picturesque par 3 measuring 130 yards. From an elevated tee box, the golfer looks down to a narrow green with water running along the front, left and back. This hole is a visual delight that brings out the nerves in even the most seasoned golfer.